There are less than 24hrs to go for New Years, and with the book, movie and comic book list done, it´s time for the series I have enjoyed the most this year!
Once again I have grouped this list in my favorite 6 and my least favorites, so it doesn´t  mean they are the best or worst series, just the ones I´m liking the most.
Anyhow, I didn´t mention some series like Teen Wolf, Grimm, etc, since they are done and deserve their own posts, so… without further ado, here we go!
1) The Orville

The critics might hate it, but I love this series! It´s the Star Trek series I was waiting for -that CBS sadly didn´t deliver-. I´m so glad season 2 is already green-lighted!
2) The Gifted

I wanted to like Legion, but sadly it lost me somewhere, so… my hopes of seeing the X-men in action again fell on this show that luckily hasn´t disappointed! I can´t wait for each episode to come
3) Supergirl

I was worried about season 3, ´cause… let's be honest, the third season of the CW superhero shows seems to be their kryptonite, but luckily that doesn´t seem to be the case with Supergirl ´cause this season´s on fire!
4) Marvel´s Agents of S.H.I.E.L.D.

I seriously think this series is awfully underrated ´cause in my opinion, each season jut gets better and better! and Season 5 so far is…. out of this world!
5) Shadowhunters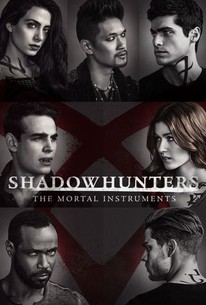 It´s funny, right? Who would have thought that after the first impression I got from this series I´d be so hooked up that I can´t wait for season 3 to begin, but here I am!
6) The Mayor

There´s a lot of comedy going on this season, but none of them have made me laugh as much as this series, which also has an interesting point of view on politics and social cometary
---
7) Inhumans

Inhumans wasn´t bad per say, and I actually enjoyed some episodes, but… the problem I think is that they tried to make it bigger than it was.
8) Star Trek: Discovery

This one was a disappointment, I wanted to like it, and at the beginning, I thought I might but then…, it just isn´t my Star Trek
9) Iron Fist

Yeah… I couldn´t make it past episode 4, and frankly even having watched Defenders, I don´t think I missed a lot.
10) Luke Cage

My mom loved it but I couldn´t make it past minute 35
11) The Flash

Definitely done with this one, I tried but in the end, it seems it´ll be just Supergirl for me -unless Black lighting turns to be awesome-
12) Still Star-Crossed

Loved, loved the book! I was so excited for this series, so… the only thing I have to say is.., why?!
And that´s pretty much it! How about you? Which shows surprised you the most?, which ones disappointed you? and which ones are you still following faithfully and why?